5.0
stars - based on
17
reviews
---
5.0
stars - Written on December 28, 2021
I spoke with my mother, Lois B. White, this morning. She wanted me to greet all of you and tell you how happy she is that you are still working and helping people like you helped my dad, William N. (Bill) White. Bill was a farmer in Skagit County and lived in Burlington, WA.
Bill had a stroke in December of 1993 at the age of 69. Lois thinks they came to your clinic in 1994 or 1995 after being recommended by Dr. John Bastyr. They stayed at the Holiday Inn and took the shuttle to your clinic each day for about 3 months.
My sister (Trudy White) and I (Valerie Grube) came to visit my parents about a month after your work with my dad began. I remember meeting you, Naomi, and Dr. Steenblock. George even gave me a tour of the room with the oxygen chambers and allowed me to sit in one to get the feel of what it was like for my dad. Everyone in your office was so friendly and we met other wonderful patients who were also being treated there.
Following the stroke, Bill started walking with a walker, then after treatments at your clinic, he graduated to a cane and soon progressed to where he did not need the cane. He continued exercising at home (about 2 hours daily) and at the athletic club in Mt. Vernon, Wa.
In 2009 Bill had two falls resulting in a double hematoma when he had to be airlifted to Swedish Hospital in Seattle for treatment. He lived 2 more years in a care center in Mt. Vernon, WA, and passed away at age 87. My mother, Lois (now 94) said it was remarkable that he was able to live that many years following the initial stroke. It was due to God's help, Bill's determination, and the significant help your practice gave him.
I have attached two photos that will hopefully show familiar faces. One photo is of Bill at his 85th birthday party at our house in 2009. The other photo was taken at the care center on his 87th birthday, one month before he passed away. My sister, Trudy, is on the left side of the photo, my mother, Lois, is standing behind my dad and I am on the right.
Rick and I live in Bellingham, WA. We are both retired – Rick from being a mechanical engineer at the Phillips Refinery in Ferndale, WA and I was a high school teacher for many years. We are so happy we were able to make contact with you since we have an acquaintance who has been diagnosed with traumatic brain injury. We thought she would greatly benefit from your expertise
and we plan to refer her to your office.
Thank you for taking the time to speak with us and for providing such appreciated treatments that significantly extended my dad's life.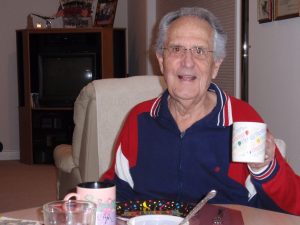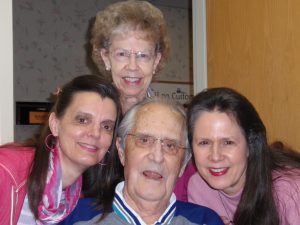 by Valerie & Rick Grube
Creative and innovative
5.0
stars - Written on May 1, 2020
Creative and innovative, eager to embrace cutting edge advances is is field and unafraid of the newest modalities.
by Nancy L.
Dedicated
5.0
stars - Written on January 22, 2020
With Dr. Steenblock's knowledge, experience and dedication to his patients, we are very pleased to recommend him.
by C.C
Such a great Dr. and staff
5.0
stars - Written on January 13, 2020
I am so thankful from experiene that I have from this clinic only 5 visit I am a different person , pain free which I can't imagine ,my co workers are so happy for me to see I am not in pain and walking straight , I worked 12 to 15 hours daily all standing and pain free this past Dec. for me that is being in heaven , I had two surgeries in my knee nothng was changed got even worse but treatment I got from Dr's office was beyond imagination , I highly recommend any person with any kind of issues visit Dr.Steenblock's office then you will realise what am I talking. Such a great Dr. and staff .
Best to all.
by Roxy A.
I would recommend the Dr and his clinic to anyone looking to heal.
5.0
stars - Written on November 22, 2019
Dr Steenblock and his staff are amazing, Dr Steenblock is a wealth of knowledge on Modern Medicine. He is an expert on Stem Cells, Hyperbaric Medicine and much more. I've spent 5 days a week here for the last 6 weeks. I would recommend the Dr and his clinic to anyone looking to heal.
by T. G.
Excellent doctor
5.0
stars - Written on October 3, 2019
Excellent doctor with great knowledge of the body , friendly and an expert in the field of stem cells. He probably saved my life discovering my sleep apnea. I highly recommend him.
by H.F
Knowledgeable
5.0
stars - Written on August 22, 2019
Knowledgeable, professional, up to date and competent.
by S.D.
I have no more pain
5.0
stars - Written on August 13, 2019
I fell and shattered my femur all doctors told me I need a knee replacement instead I had Dr Steenblock give me stem cell injections and I have no more pain. It was like a going from hardly being able to walk and having no pain.
by Pamela B.
I couldn't recommend them enough.
5.0
stars - Written on June 22, 2019
I spent two days with Dr. Steenblock and his staff – it was amazing. I feel better. I feel younger, and my skin looks amazing. My friends keep asking me, what did I do? I did the blood facial as well as the Youngering program. It's not a spa thing. I was surprised with how "medical" the entire procedure was. Dr. Steenblock was so helpful and his staff explained everything. Gina was amazing. I couldn't recommend them enough.
by Marisa B.
I highly recommend Dr. Steenblock!
5.0
stars - Written on June 12, 2019
Dr. Steenblock is a fantastic doctor and researcher. He's been a leader in his field for more than the 15 years I've personally known him. I highly recommend Dr. Steenblock!
by Shelly W.
Thanks Dr. Steenblock!
5.0
stars - Written on April 1, 2019
He is a great doctor and gave my wife exceptional care! Thanks to Dr. Steenblock she is now totally free of heavy metals, she was full of mercury and lead and after his chelation protocol her levels are now within range. She feels better and her goiter has pretty much disappeared. Thanks Dr. Steenblock!
by Chase K.
Worth it
5.0
stars - Written on December 22, 2018
It was a very great experience and worth going to. Jamie enjoyed it and was helped by it.
by Leo B.
A+
5.0
stars - Written on December 5, 2018
An excellent doctor, scientist, and good friend! A+ !
by H.J
Terrific
5.0
stars - Written on September 18, 2018
I found that the staff was terrific. Dr. Steenblock is treating me for sporadic ALS. It's still too soon to say that the progression will be reversed, but even my neurologist felt that the progression has been halted! I have been treated twice, two weeks in May, then one week in August, and will return again if I see measurable improvements!
by Michael P.
Grateful
5.0
stars - Written on May 5, 2018
There are no words great enough to express our heartfelt gratitude to each of you. The moment I spoke with Chase and then Lauri over the phone, they have gone above and beyond to help us setup, understand, and get through this process. When we arrived, it was even better. We immediately felt at home. We knew God brought us to the right place to give Gary THE BEST chance of fighting this awful disease (ALS). With only 2 weeks spent with Dr. Steenblock and Dr. Hannah, he is already able to gargle, spit, balance and talk better. All of these were a struggle if even possible when we arrived. And he will only improve God willing. We truly love this office and look forward to our next visit. Thank you Dr. and Mrs. Steenblock for all the time and money in research and equipment you have invested, to give patients like Gary and so many others a chance.
by Valerie M.
Great Experience
5.0
stars - Written on May 6, 2017
Loved the staff! It was an overall great experience and looking forward to seeing improvements in my daughter's health
by Amanda S.
Thanks so much
5.0
stars - Written on June 25, 2016
I had horrible pain from artihris in my right knee joint. I saw Dr. Steenblock and got an injection in my knee to assist with the healing and pain of the joint and after 3 days the horrible pain was GONE 🙂 needless to say I was happy about that as I have tried alot of things as you can image but his stem cells research and methods helped very much. This is the best news for me as handling my knee pain has been of great concern to me. I suggest the rest of you at least try it ! You have nothing to lose and everything to gain to be out of pain. Thanks so much Dr. Steenblock and your incredible stem cell TEAM 🙂 much appreciated. 🙂
by Cathy W.